Case
One system for all operations within DasAccess!
DasAccess - Map4F
DAS Access is one of the main players for high quality standalone access control products, with customers all over the EU.
Developwizard got the opportunity to develop a brand new high performance platform for DAS Access.
To this day, we are constantly adding new functionalities to the platform to give users and customers of DAS Access the best possible experience.
Speed boost thanks to React
DAS Access' previous website was already built in Drupal, but due to its success a thorough overhaul was more than welcome.
Since at peak times a lot of users are logged in at the same time, the former Drupal system could not cope and speed dropped drastically.
Powerful PHP framework
In order to ensure that both the general speed of the website and the flow of service and sales requests ran smoothly, we opted for a custom platform based on PHP.
We used an ERP solution developed in-house as CMS to easily manage the offer, the users, news items and pages.
For the front-end, we used React, the Javascript framework that makes it easy to create dynamic web applications.
In this way, we provided a considerable boost in terms of browser performance.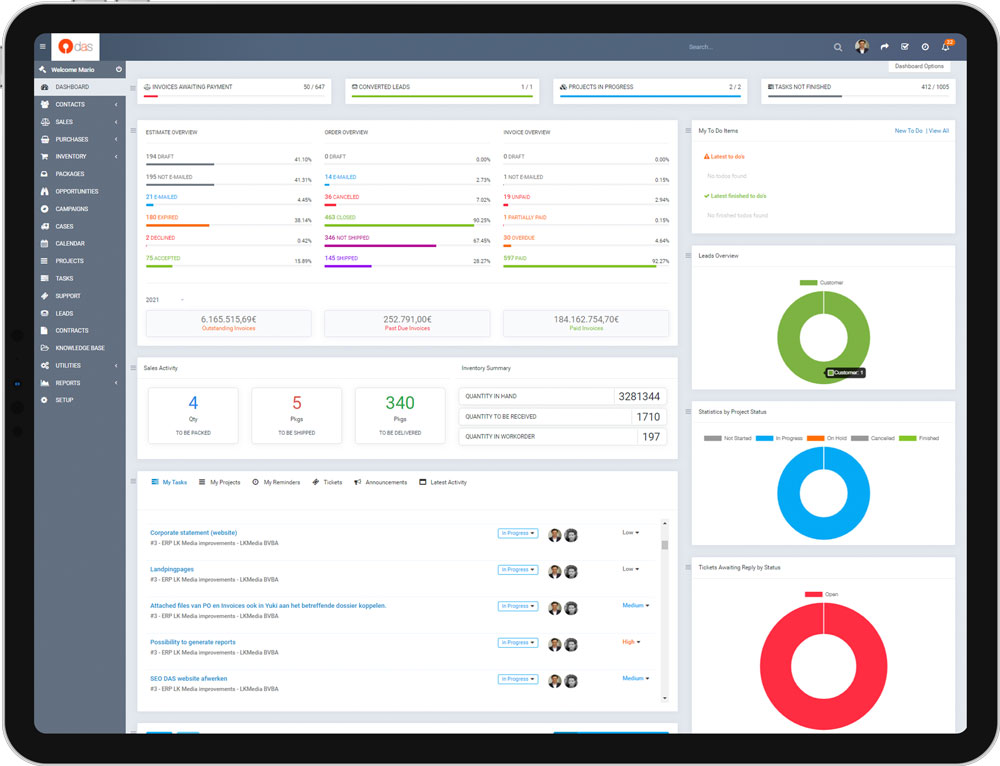 Speed is king
When the previous version of the website was created, the entire mobile Internet world was still modest in size. That is why now was the ideal moment to take a close look at compatibility on mobile and to improve it, in order to respond to current technologies. Service technicians in particular are increasingly visiting websites via their smartphones, so the importance of a well-functioning mobile site had become an obvious necessity.
We provided a fast mobile version, so that every DAS Access technician can perform the latest firmware or software update in addition to his Parking Columns.
Everything in one place
Mario Elia from DAS Access wants to be able to respond to the current market at all times; in other words, you want a flexible platform in which you can fine-tune every aspect of your ordering process.
Scalability is a must during the development of an ordering platform.
Thanks to well-considered choices during the development process and the use of the latest GoCool application, DAS Access is ready to take care of your order at all times.
One system for everything!
A centralised system in which you can manage every order, dealer or assortment.
This is not only convenient for the dealer, but also for our customer.
With the above challenges in mind, we had a lot of work to do.
Building an ordering platform from scratch always requires thorough analysis and research before we start programming.
The code architecture must be future-proof and the idea behind every project is that we want to keep growing with the wishes of our customer.
We supported Mario in drawing up the functional requirements and linked the technical analysis to them ourselves, with a clearly outlined plan of action.
Thanks to our Agile working method, we were able to collect feedback after each sprint and adjust the project where necessary. This way, we are completely ready for the ordering platform to grow along with DAS Access.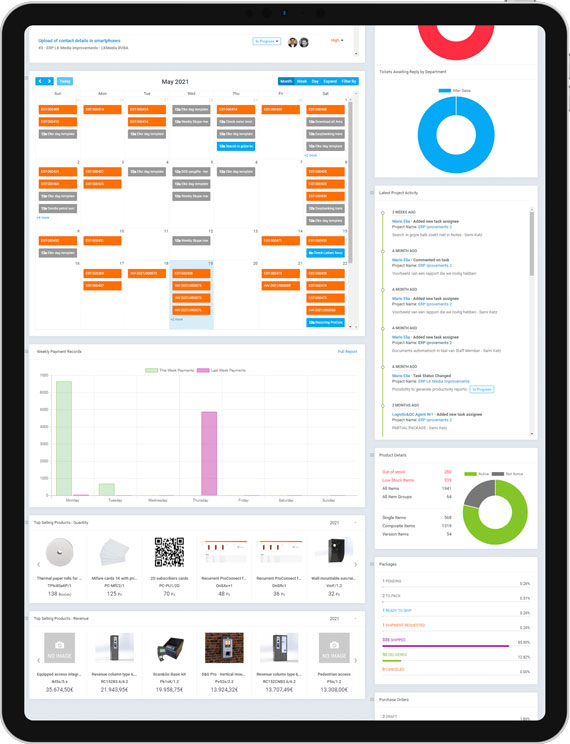 Rollout, marketing and optimization
Developwizard assists Mario Elia of DAS Access in refining each business case. We carry out the analysis of their digital project. The right project approach is crucial for the best result in budget, scalability and the future of the application.
We program our web applications in PHP and JavaScript. We are passionate about PHP and JavaScript with React.js and Vue.js.
The right tools
We love new things at Developwizard, but we only apply known, proven technology in production applications.
We build applications with the right approach, architecture and technology choice. So you enjoy the best balance between budget, timing and functionality.
We do not only build applications, we also help you with the roll-out, marketing and optimisation. Thanks to our knowledge of business activities such as marketing, sales and HR, we not only help your IT department with the construction, but also with the rollout, adoption and application of your application.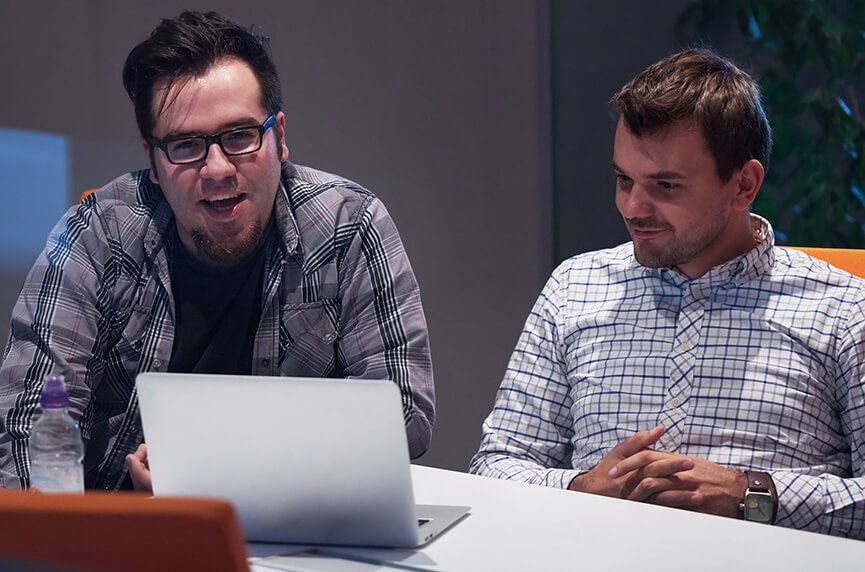 Launch a new
concept yourself? Validate your idea?
We are ready for any challenge and are happy to think along with you.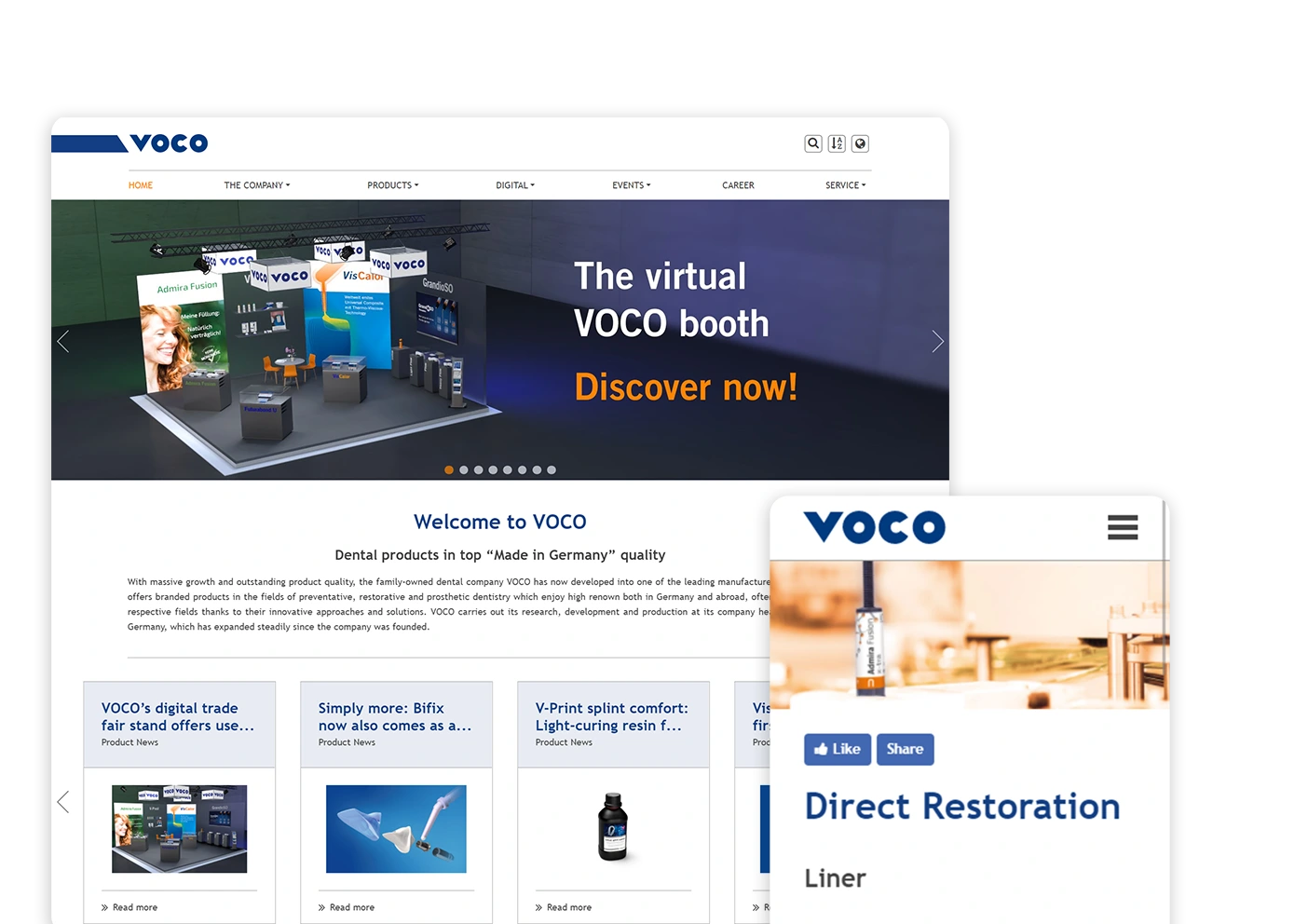 VOCO - Dental Products
The challenge of this assignment was the large amount of product content and how to connect this content in a user-friendly way.
Jablotron
User-friendliness and graphic design are always central. Therefore, we first created visitor profiles of the different types of Jablotron B2B customers: How do dealers order...