DevelopWizard is a specialist in the development and design of your app, webshop or website, but goes one step further. We want to help you digitalise your processes. Starting from a sincere interest in your company and your profession we will explore how we can help you.
Cocktail of professionals
Our team consists of an excellent selection of tech-heads, designers and strategic thinkers. Each one of us can achieve wonderful things. But bring our strengths together and something truly magnificent will emerge! We are DevelopWizard, we help you take your business to the next level.
Moving forward together!
Of course we also do everything we can for a one-off project, but at DevelopWizard we believe in the power of sustainable collaboration. We want to be your sparring partner for your online activities. Through regular measurements and evaluations we make your website or webshop a little better every time.
15

years of experience

Through regular training, we have the latest knowledge, but we ourselves have been around for a while. We have made our flying hours. We have the technological expertise and experience and understand how important the ROI on your online project is. Because we also get to know your business well, we can think along about concrete end solutions that put the end user, not tech, at the centre.
Where did that name come from?
Well, what do you call a group of developers who do magical things online? The name DevelopWizard was easily chosen.
Anonymous audits
We believe in open communication. But we also know that sometimes it can be difficult. That is why we use an external agency to ask you what is going well and what we could do better. We learn from this.
Our offices as a base
Working from home is nice, but sometimes it works better when you come together. Our offices is perfectly equipped for optimal cooperation. From various setups (from brainstorming to quiet areas), we work energetically together (or alone) to make your project a success.
Mapping complexity
Even the most complex tool, website or web shop must be user-friendly. Sometimes it takes quite some effort to make something work so simply. At DevelopWizard we are experts at translating complex processes into intuitive applications.
It starts with coffee (or tea)
Open communication and long-term cooperation start with a good introduction. As far as we are concerned, this starts with a cup of coffee or tea and a good conversation. Together, we will discover how to make your online presence even more effective.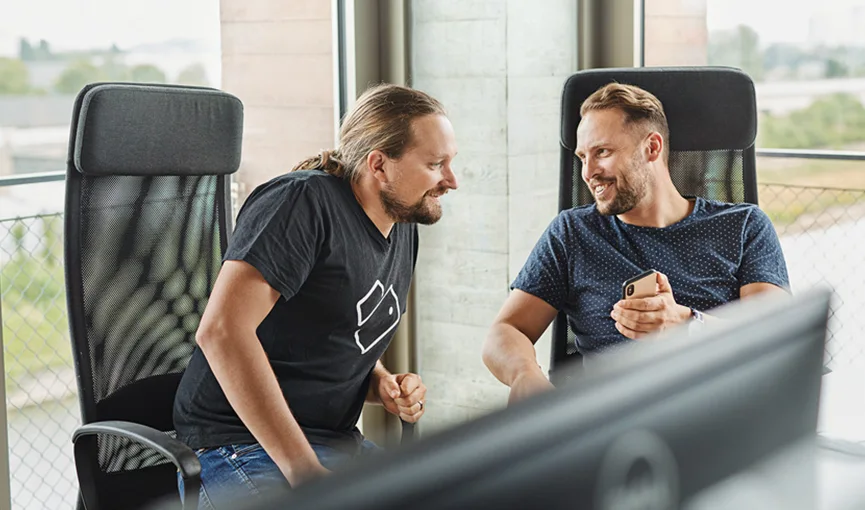 Working together?? Visit us?
Do you want to see if DevelopWizard can achieve magical things for you too? Come along for a good conversation.
Not every Wizard wears a pointed hat and a cloak. We even look surprisingly normal. DevelopWizard is no-nonsense, result-oriented but always with a smile. Thanks to the friendly atmosphere and our pleasant office you always have a good working day with us.
DevelopWizard is a full-service web agency. If you are facing an online challenge, we will help you with a solution.
Have you always felt a bit different from the rest? Maybe you are a Wizard among Muggles. Who knows, you could be the next DevelopWizard of our team. We already have a nice project in mind for you.